I shall call him mini-Jake
One of the things that makes American football great is the fact that there are not many games on the schedule. Each contest means something. Fans of the NFL generally embrace each and every game with a healthy dose of alacrity. But if ever there is a preternatural moment in the course of a franchises quest for the Lombardi Trophy it would have to be week 4 of the preseason. The starters of any given team spend more time actually putting on their uniforms than they do playing. With 36 hours to go before roster cutdowns, you have all sorts of guys playing for their professional lives and usually one can see why.
Last nights game between the Carolina Panthers and the Pittsburgh Steelers was no different for about the first 58 minutes. The entire first half was actually rather painful to watch as both squads appeared hell bent on both not getting anyone hurt or providing any useful film to their upcoming opponents.
But in the fourth quarter those Panther fans that decided to brave it out and continue watching were treated with a fantastic show. The team's fourth string QB Brett Basanez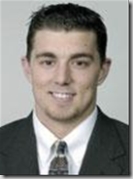 had himself quite a coming out party. And it was not just some statistical compilation playing against a bunch of future waiters at Steak and Shake. It was a truly Carolina style Cardiac Cats type of performance.
Now Brett did play a good portion of the second half and did well, but that is so not important. The memories began with 1:47 to go in the fourth quarter and the Steelers leading 13-12. From the Carolina 9 yard line Brett starts the drive with a deep pass to Jeff King for 27 yards. This is followed by two short passes that deliver a 3rd and 7 situation. On third down, a Steeler defender tore through the line and sacked Brett for 7 yards.
Now there is 46 seconds left and it is 4th and 14. Brett in a shotgun, drops back and under pressure throws an incomplete pass to Justin McCullum. Oh well is the initial reaction, but this cat has got multiple lives because the refs call a 15 yard roughing the passer penalty against Pittsburgh and now it is 1st and 10 just three yards shy of midfield. Brett tries to hit McCullum again, incomplete. On second down the drive begins in earnest. Brett fires and hits Justin with a deep right side pass good for 14 yards. First down from the Pitt 39 yard line Brett again misses a receiver. Second down, 27 seconds remaining he finds Taye Biddle on a short pass for 8 yards. Still 27 seconds on the clock, no timeouts left and well within Kasey range based on the previous 4 perfect FG's we are all thinking that Brett is going to slam the ball to the ground and force the clock to stop. But no, he meanders up to the line with everyone anticipating the spike and instead takes a quick snap and then fires a laser beam pass into the hands of Justin McCullum who then sprints towards the endzone and is driven out of bounds at the Steeler 11 yard line with 4 seconds remaining. A John Kasey chipshot later and the Panthers win 15-13.
How many times have we seen Jake Delhomme and the starters line up under the most dire circumstances only to pull off a victory as time expires? If you did not watch the game last night and opened up today's paper you will probably be looking at Brett's so-so 73.9 passer rating. You might even look at Stefan LeFors 109.4 rating and think he had a good night. You would be wrong. LeFors did a damn good Randy Fasani impersonation last night and look like total crap.
I am not sure if the kid is going to make the roster, but in my mind he is the true Mini-Jake. He was not flashy and fancy, but he gutted it out in the clutch. Hell, he even has a weird name where there the letters do not match the pronunciation. It is bah-SAW-ney and not BAH-SA-nez. To paraphrase one Gunnery Sergeant Hartman "Brett may be silly and ignorant, but he has guts and guts are enough"