To sign up for our email distribution and for some news about the team and the Tailgate please follow us on Facebook

and
Pantherfanz win 2nd Place in the 2013 Carolina Panthers Pride Rides Competition at BoFA Stadium! Congratualtions to 'Tailgate 652' who stepped it up this year with some new tailgate toys to take the title!



~ Two-Time Panther

Pride Ride Champion ~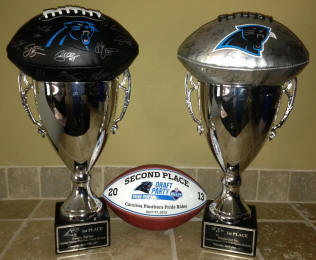 NEW!!! >>> Panthers 2013 NFL Schedule Released <<<

IN THE NEWS!!! Creative Loafing visits the Pantherfanz in Charlotte

Pepsi Commercial!!!

Carolina Panthers Born & Raised Here Commercial

NFL.com!

!!

Pantherfanz on NFL Fans Ultimate Road trip

Morning News: Pantherfanz on the Channel 36 morning news

NEWS: NFLFootballStadiums.com gives "Props" to the Pantherfanz

NEWS: The Pantherfanz Party Prowler gets featured on TailgateLot.com

Food Showcase!!! The 12thMan Hot Wings recipe featured on
Food Showcase!!!
Pantherfanz Pulled Pork featured on the Food Network

IN THE PRESS:
Pantherfanz featured in

Tailgater Monthly

Club Showcase
Stories from the stands: NFC South. Dano 12thMan gets featured on ESPN.com

The Cedar Street Seer's Rantz of the Week

THE WEEKLY HANDICAP AND OTHER CLAIRVOYANCES
...

Love him or Hate him the Seer is the voice of the people!
Stop by the lot and give him some claw!!!
"Crazy Joe"

P
A

N

T

H

E

R

F

A

N

Z

O

F

T

H

E

W

E

E

K