How to locate the Famous Pantherfanz Tailgate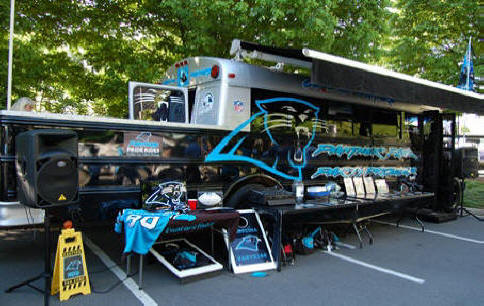 We pride ourselves on having THE BEST TAILGATE LOCATION IN THE NFL by literally being in the backyard of Bank of America Stadium! We are located in Pecan Parking Lot # B-3 which is a gravel lot Located off of 601 S. Cedar Street in the Third Ward of Charlotte, NC. We are situated between the Clutch Kitchen & Pour House and Bank of America Stadium adjacent to the Panthers practice fields. From 601 South Cedar Street, walk past Clutch Kitchen & Pour House Restaurant on a long side walk up towards BOFA Stadium. Pantherfanz Tailgate will be on the right side of the sidewalk just before you go under the railroad bridge overpass!

>>> Look for the
Big Black PantherFanz Bus
, a Pantherfanz Fire Truck, Large Smoker, Grills, and flying flags ~ you can't miss it!


>>> Ask for DanO, James, or Crazy Joe! Mention the secret code word:

'Panther Potion' at the bar, and get some CLAW!!!
PLEASE NOTE our LOT is SOLD OUT!
:
Our Lot # B-3 is already reserved for the year, and has a long long long waiting list!

* If you wish to park near by and walk up to join the fun, then please visit
Park Charlotte
or West Parking Service.
There are several cash lots available on game day - additional parking is located at Lot J or P right across from Clutch Kitchen & Pour House - from there it is just a short walk up the sidewalk to the Pantherfanz Tailgate Lot.
JUST BING IT!

Click on 'Get Directions' link below: